Asia Health Resort
Strawberry Hills Near Dal Lake,
Dharamshala Cantt.Himachal Pradesh - India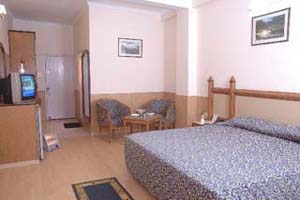 Asia Health Resorts, Dharmshala is a centrally located offering a magnificent decor and elegant ambience. The rooms speak of elegance and comfort while the top-of-the line amenities enhance the convenience quotient. To add to this, the scrumptious cuisine of its in-house restaurant is indeed a sure draw for the foodies.
The Asia Health Resort is located on Strawberry Hill,near Dal Lake in Dharamshala Cantonment. The Mec Leodganj bus stop and His Holiness Temple of Dalai Lama is few kilometres away from the hotel. Visitors can visit St. John Church (Approx. 4km) and the Moulana Azad Urdu Library Jama Masjid (Approx. 8km) from the hotel. Other intersting spots that must be visited also include Kaleshwar Mahadev Temple, Lord Elgin's Memorial and Narghota.Distance from Kangra Airport: Approx22km. Distance from Kangra Mandir Railway Station: Approx 41km.Distance from Pathankot Railway Station: Approx 92km.
The Asia Health Resort welcomes its guests with warmth to experience a tranquil time. Recreational facilities like home theatre, play station-3, willy joy ride, golf, bone fire and adventure activities like paragliding, water sports, trekking make the stay truly fun-filled. The yoga centre, gymnasium and spa facility is perfect for health-conscious guests who wish to rejuvenate themselves. The hotel provides secretarial service, room service, internet, 24-hour front desk, special free airport shuttle, non-smoking rooms and travel desk. Business centre, audio visual equipment, LCD/projector, convention centre, and conference facilities takes care of the corporate guest requirements. Another feature of the hotel is the banquet facility which makes every event successful and hassle-free. The classic multi cuisine restaurant Reflection satisfies the taste buds of the guests with a variety of dishes while the bar and coffee-shop are perfect to unwind.
The Asia Health Resort accommodates its guests in cosy rooms which provide utmost comfort. Guests can choose from deluxe room, super deluxe room and family room. The room amenities includes colour television, internet access, mini bar, refrigerator and safe.
Allseasonsz.com,Himachal Pradesh India provide online booking for Hotels in Dharamshala so that one is assured that their hotel reservation in Dharamshala is done well in advance.These hotel's satisfypeople with their needs so that they visit the place again.
Travellers normally opt for those Dharamshala hotels resorts which effectively cater to their requirements and are in close-quarters with the tourist destinations. Hotels in Dharamshala greeted with best of hospitality and comfortable guestrooms opening up to views of this important destination.
Himachal Pradesh's leading Travel,Tourism empire; a success story,twenty years in the making.All Seasons monumental journey began two decades ago. Over the years,the All Seasons Group has grown into a travel,tourism empire offering a multitude of services in Himachal Pradesh-namely Dharamshala-car-rentals,packages,online hotels booking,travel tour guide. Information on Dharamshala tour packages,tourist places, attractions, spots, tour itinerary, tour-travel guide.places around dharamshala, information by which travellers can get help to plan their Dharamshala trip successfully.
Allseasonsz.com Himachal Pradesh largest travel agent's,tour operator's,Inbound travel company India offers,perfect travel services for business and leisure travellers visitingthe Dharamshala,India area.Make your reservations with allseasonsz.com today!