Hotel SV
Nainital Road,Opposite Taxi Stand
Haldwani Uttarakhand
India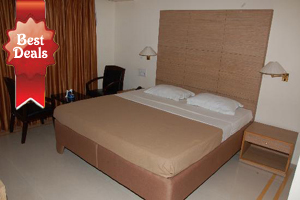 Hotel SV is a superb, centrally located hotel, ideal for those wanting a perfect stay at a very reasonable price for their visit to Haldwani, Uttrakhand. Hotel SV is the city's finest hotel and is well suited to leisure travelers with impeccable services available 24x7.

Hotel SV provides you the best of amenities and comfort facilities. Spacious and contemporary this lavishly furnished room at Hotel SV, can take care of you graciously
Accommodation at Hotel SV ,Haldwani,Uttarakhand:
Allseasonsz.com,Uttarakhand India provide online booking for Hotels in Haldwani so that one is assured that their hotel reservation in Haldwani is done well in advance.These hotel's satisfy people with their needs so that they visit the place again.
Travellers normally opt for those Haldwani hotels resorts which effectively cater to their requirements and are in close-quarters with the tourist destinations. Hotels in Haldwani greeted with best of hospitality and comfortable guestrooms opening up to views of this important destination.
Uttarakhand's leading Travel,Tourism empire; a success story,twenty years in the making.All Seasons monumental journey began two decades ago. Over the years,the All Seasons Group has grown into a travel,tourism empire offering a multitude of services in Uttarakhand-namely Haldwani-car rentals,packages,online hotels booking,travel tour guide. Information on Haldwani tour packages,tourist places, attractions, spots, tour itinerary, tour-travel guide.places around Haldwani,information by which travellers can get help to plan their Haldwani trip successfully.
Allseasonsz.com Uttarakhand largest travel agent's,tour operator's,Inbound travel company India offers,perfect travel services for business and leisure travellers visiting the Haldwani,India area.Make your reservations with allseasonsz.com today!
Hotel SV Haldwani Details;Online booking of Hotel Rooms in Hotel SV |Best rates,offers on reservation of Haldwani, hotels,resorts at allseasonsz.com
Hotel SV,Haldwani
Book rooms,packages@ Hotel SV Haldwani,.View photos for Hotel SV Haldwani.Allseasonsz.com offers best rates for Hotels Resorts in, Haldwani Uttarakhand.