TOURIST PLACES NEAR BINSAR:
Places Around Binsar
Few important tourist places around Binsar are:
Nainital
Nainital jumble around illustrious Naini Lake is a venerate hill station in Kumaon Uttarakhand. The 1.5km boardwalk known as the Mall leads to Mallital (Lake's Head) at the northwestern end of the lake. Maximum Nainital hotels, resorts, restaurants are hooked along the Mall Road between Mallital and Tallital.
Sitlakhet
Sitlakhet is a beautiful place known for its peaceful surroundings and offbeat location. Nestled in the lap of nature, at an altitude of 3870 meters in the Syahi Devi hill, Sitlakhet is among the finest places for a retreat from the hustle bustle of city life.Another beautiful attraction here is the famous temple of Syahi Devi, visited regularly by many local devotees.
Ranikhet
Ranikhet is a hill station and cantonment town in Almora district in the Indian state of Uttarakhand. It is the home for the Military Hospital, Kumaon Regiment (KRC) and Naga Regiment and is maintained by the Indian Army.Ranikhet is at an altitude of 1869 metres above sea level and within sight of the western peaks of the Himalayas.
Chaukori
Chaukori is a small hamlet situated in the Pithoragarh district of Uttrakhand state. Tibet lies to the north of Chaukori and to the south is Terai. Chaukori is perched at an astounding elevation of 2,010mts above sea level affording splendid and invigorating views of nature beauteousness. Chaukori is famous for its tea gardens established by the British. Chaukori is considered as heaven in Kumaon by the travelers. The virgin beauty of Chaukori is unaffected by pollution and crowd.
Almora
Almora is a town of temples, with temple of Goddess Nanda Devi placed in the centre of the town. The mountain, the undulated terrains with greenish luxury all around, is visible from the nearby areas as well.Almora is situated in the midst of the Himalayas, the king of mountains and abode of the gods.
Corbett
Jim Corbett National Park is one of India's most beautiful wildlife parks here in Uttarakhand. Situated in the foothills of the Himalayas, in the newly created state of Uttarakhand is haven for wildlife lovers in India.The present area of the Corbett park is 1318.54sq.km.
Ramgarh
Ramgarh is emerging as a popular destination of Uttarakhand state as it is one of the hidden jewels of Kumaon region. Ramgarh is earning good name by word of mouth from the tourists who visit this heavenly hamlet. Ramgarh is also known as Fruit Bowl of Kumaon as it houses verdant orchards of apples, apricots, peach and pears.
Haldwani
Haldwani is gateway to Kumaon, a city in Uttarakhand, an important Business Centre, which along with its twin township of Kathgodam forms the Haldwani-Kathgodam municipal board in Nainital District in the Indian state of Uttarakhand.
Bhimtal
There are some of the most popular places to see near Bhimtal and places to visit around Bhimtal where you love spending your time and Bhimtal tourist attraction would compel you to come here over and again.
Champawat
The people of Champawat are rich in cultural heritage and they still perform the rituals and fairs with equal interest, which they used to perform in 10th century. Champawat is one of the easternmost town of Uttarakhand state perched at an elvation of 1,670mts above sea level.Champawat has a wide variety of fauna and flora as almost 65 per cent of the district is covered with fauna and flora.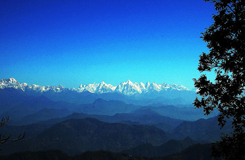 Kausani
Kausani is the perfect destination for those tourists who want to enjoy the beauty and serenity of nature. A picturesque hill station.This place is renowned for its scenic splendor and the spectacular, 300-km panoramic view of the majestic Himalayas
Lohaghat
Lohaghat is an admired destination in Champawat district of Uttarakhand state. Lohaghat holds immense historical and mythological importance and it is situated on the banks of Lohawati River at an altitude of 1745mts above sea level. During summers the area is covered with Rhododendron, the state flower of Uttarakhand. Lohaghat is spread over ab area of approximately 4.5sqkms.
As one of the leading travel agencies in Binsar allseasonsz.com provide all to all information required about - tourist places near Binsar,tourist place around Binsar,places near Binsar,list tourist places Binsar,places tourist interest Binsar,tourist spots around Binsar,tourist spots near Binsar,tourist attraction near Binsar,tourist place nearby Binsar,Binsar nearby places,Binsar nearby tourist places,Binsar nearby tourist attractions,Binsar nearby places to visit,Binsar nearby areas,Binsar nearby hill station,Binsar around places,places visit around Binsar,places see around Binsar,places interest around Binsar,best place around Binsar,places go around Binsar,must see places around Binsar at allseasonsz.com-Uttarakhand best travel agent ; a success story,twenty years in the making.All Seasons monumental journey began two decades ago. Over the years,the All Seasons group has grown into a travel,tourism empire offering a multitude of services in Binsar, Uttarakhand.
more about Binsar